MÁV KFV Ltd. Hungarian Railways
Installing and operating, maintaining Novell Small Business Server software on HP Intel based server. InstallingNovell GroupWise mailing system. Controlling Compaq EVO workstations. We were the winner on a tender at MÁV (Hungarian Railways Company).We develop the special software system based on SQL Database for examination of rail diagnostics. We won the hardware, software delivery and communication system development.
Ryowa Hungary Ltd.
Installing IBM X –Series based complete system. Making and controlling leased line internet. Operating Microsoft based server software, maintaining at the workstation side.
Sarpi Dorog Waste Burning Ltd.
This is a mixed cabled network in industrial environment. The whole building up of the computer system was our work. At the moment there is an optical cable with 6 hearts between the factory building and the central office building. It was necessary, because the servers in the factory building are in a server room, but the workstations are in the central building. In the central building the little network of accounting is a Twisted Pair network (35 LCD Personal Computer), and joins to IBM servers. We installed a Twisted Pair network in the factory building. We installed Windows based virtual environment.
Minolta Hungary Office System Ltd.
AT&T Legend phone subsystem setting with 23 main- and 84 extensions. Whole execution from planning. Automatic operator, UPS, invoice possibility for extensions.
Gentherm Hungary Ltd.
About 50-90 end-point 100Mbps shielded cabling on 3 pc 3 floor workshops. 400 endpoint 100Mbps shielded floor-cabling in the office-building. Making redundant optical Gigabit bone between the buildings. Installing and operating Cisco instruments. We were active in migrating Windows 2003 for about 180 workstations and 2 Windows 2003 Server Windows XP to Windows 7 and Windows 2008 server platform. We operate HPQ Proliant servers in Microsoft Active Directory platform.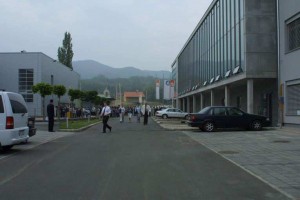 Gentherm Hungary Ltd.. – Pilisszentiván
Demmler and Company Ltd., Budapest
Structured cabling for 12 workstations with Apple Macintosh portable and desktop machines, Panasonic phone center with 6 main- and 16 extension lines. Our company made the whole execution.
Residence of World Federation of Hungarians in Benczúr str., alarm system
Whole alarm system connected with police in the four-level house. 6 zone centre with motion detectors, inside and outside hooters, fire alarm. We carried out the whole work from planning to presentation.
Hilltop Joint-stock Company Neszmély Winery
Our company routed twisted pair network with outside cabling in industrial area in Neszmély. This network is in connection with Hilltop-Neszmély Rt.office in Budapest by leased line with a help of a router. The Neszmély workstations reach an IBM Netfinity server on a structure cabled network. There are 3 more premises connect to the server by internet.
Kaposmag Joint-stock Company, Dombóvár
We routed structure cabled system with 144 ends. Setting an Eurogenerics ISDN phone centre with 4 analogous main-lines+ 1 ISDN BRI and 36 extension lines. ISDN router installation, routing Internet reaching with the help of Microsoft Back office for Small Business. Installing HP NetServer.
Hungarian SANYO Joint-Venture Company Dorog
We delivered server farm based on IBM xSeries servers. These servers service the SAP system for European region. These servers are multiprocessor and based on Intel platform. We used Fibre channel disk subsystem with DLT type library for data saving. This system is full redundant and error tolerant. The operation system of the servers is Linux.
We installed stand-by server also.
Office of Signal Insurance Company Budapest
We installed structured cabling system with 75 joining points. Producer of the phone centre system is AT&T. We built this system with 2 ISDN BRI, 8 analogue phone lines and 34 extensions and 10 computer connections at the moment. The execution was made by Printer- fair from planning to Computer delivery.
Semmelweis Medical University of Science- Language laboratory
We developed the WEB based terminology educational system in Linux environment. We delivered multimedia language laboratory based on 12 IBM computers and xSeries IBM servers. We built the computer network also. We installed one server for multimedia language functionality based on Windows 2000 server operating system and another server for WEB based applications with Firewall functionality. We developed the WEB based applications like e-learning system, terminological language learning program.
Medical University of Science in Pécs-Language laboratory
We developed the WEB based terminology educational system in Linux environment. We delivered multimedia language laboratory based on 12+6 Fujitsu-Siemens computers and server. We built the computer network also. We installed one server for WEB based applications based on Linux operating system. We developed the WEB based application too.
Eurasia Sped Ltd. (Agency of Itochu from Japan)
Building of 100 Mbit /sec twisted pair cabling system with 200 connections. Installation
Voice over IP connection between company office in Esztergom and company office in Budaörs. Communication software, named MS Back Office, installation and parametering on IBM Netfinity server. Building leased line Internet connection. System administration and system control remote control by maintenance contract.
Colgate-Palmolive Ltd. Dorog-Budapest
Start satellite connection by a CISCO router. Firewall software installation and parametering based on Linux. Leased line Internet connection installation, router programming. Installing IBM workstations. We serve the company IBM servers and computers as a local partner of IBM World Wide Contract.
Novoprint Joint-Stock Company Dorog
Complete network reconstruction (100Mbit/s). Installing multi-server management system and communication software on IBM xSeries Intel based servers. Central mailing, internet reaching, central installing, data saving, virus protection. Making internet VPN connection between two premises.
Dorog Hospital
We were the official planner of the week current network like a sub-contractor Planning office in Dorog.
Dunakanyar Car salon in Vác
We built the structured cabling system with 236 connections. We worked like a subcontractor of Balusztrád Villanyszerelési Ltd..
Human Telex Advertising Agency Budapest
We built the structured cabling system with 270 connections. We installed optical backbone also.
RUF Automotive System Hungary Ltd.. Ajka
We planned the Gigabyte backbone and redundant network used Cisco equipments. We installed optical cable. We planned structural cabling network also
Opel Autótrend Ltd.. (Opel dealer company)
We delivered HP Proliant DL 380 server for Scala ERP system. We support this system still operating system (Windows 2003 server.We built complex mail, firewall system based on Microsoft Small Business Server. This system runs on the IBM xSeries server. We delivered another IBM server for the Opel system management software. We restructured the cabling network and changed the workstation also.
Dorogi Powerplant Ltd.
We installed 2 pcs ISDN BRI Panasonic phone center with 64 extensions.
Old telephone system disassembly, 200 endpoints telephone network rearrange. Implementation of IP-based phone service at the company. We service leased line internet for Dorogi Powerplant Ltd.
AGM Zrt. Sajóvelezd
Optical backbone network and structured cabling design and construction of the company's food processing plant. Our task was to plan and build of the whole network. The site was built complete WiFi network also. Our company ensure IP-based phone service in the factory.
Apcom CE Ltd. Budapest
Delivery and installation IBM Blade server systems for complex ERP system of 8 countries. Storage solutions and high availability for Windows Enterprise server cluster configuration. We operate the whole server park in a Data center.
Diamond Elelctric Hungary Kft.
Construction of 382 CAT5e structured network endpoints. Delivery of IBM servers, VMware-based virtual design environment. Design, construction and operation of industrial production hall Wi-Fi system. The company's internal IP-based phone system design and implementation. Linux-based e-mail system design and construction, the introduction of internal OTRS (ticketing system). The company's internal portal development.
Aerzen Hungária Kft (Esztergom-Budapest)
We designed and execution all of the company's weak current system of the new factory in Esztergom. The systems include: Structured FTP CAT6 network, Wi-Fi system in the offices and on the factory halls, phone system, IP-based camera system and alarm system.
Delivery of Dell servers, installation and operation of Ms. Exchange-based mail system. Installation and operation of the Navision ERP system, included the SQL database management system.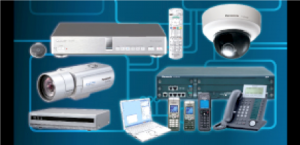 Municipality of Kaposvar
We designed and executed of work management, preparated of IP network design wireless backhaul network of surveillance system, consisting of 150 IP cameras in Kaposvár.
Csolnok Militia
Design, construction Csolnok surveillance camera systems and wireless backhaul network. Installation, operation, license plate recognition system.
Magdolna- walley
We installed a radio tower and built a microwave internet service system. We planned this system, installed and we service the internet there.
We invest a lot of time and money to know everything about the wireless connection possibility and new technology in this area.
Our references: Data connection by wireless data transfer at Colgate–Palmolive Hungary Ltd.. Microwave internet service on 5,8 GHz and 2,4 GHz in Esztergom, Dorog, Csolnok, Kesztölc, Piliscsév, Tát, Tokod and Jászfalu.